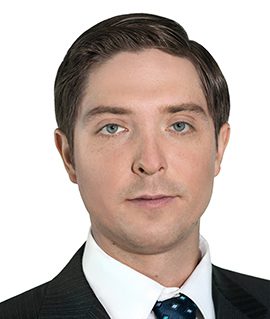 Oleg Kolotilov
Partner
Oleg has over 15 years' experience in multijurisdictional disputes and represents clients in Russian state courts of all levels, including in the Russian Supreme Court, and in international arbitration centres such as the ICAC, the VIAC and the ICC, including in parallel court and arbitration proceedings.
Oleg Kolotilov is 'an accomplished and powerful advocate', and 'a good specialist in bankruptcy' lauded for his ability to 'offer clearly understandable and strategic solutions to the most complex questions'. The Legal 500 EMEA, 2019 (read other reviews)
Oleg specialises in contractual, corporate and administrative disputes, enforcement proceedings and interim relief, including in support of proceedings abroad. He also has significant experience in disputes involving parallel civil and criminal proceedings. Examples of his work are given below.
Projects:
Defending one of the world's largest auditing and consulting companies in a dispute with an advisory services customer.
The dispute arose in relation to a consulting services agreement for analysis of the effectiveness of the implementation of an investment project relating to a major construction project.
Defending OJSC Transammiak and its shareholders in courts of all instances, including the Russian Supreme Commercial Court, in disputes relating to the invalidity of the sale and purchase agreement for 51% of the shares in the Company.
Over 30 court cases in connection with the illegal dissipation of assets worth US$6 billion controlled by Mukhtar Ablyazov.
Defending a Russian state corporation in the VIAC and the ICAC in a dispute with contractors regarding the recovery of damages and fines amounting to US$97 million and arising out of agreements for the preparation of documents in connection with the construction of a high-speed railway line in Libya.
A dispute in the ICAC between a Russian gas producer and Georgia in connection with gas supply contracts entered into under Russian, Georgian and Swiss law.
Representing OJSC Togliattiazot in dozens of cases, including a minority claim for the recovery of damages resulting from a lowering of sales prices on foreign markets.