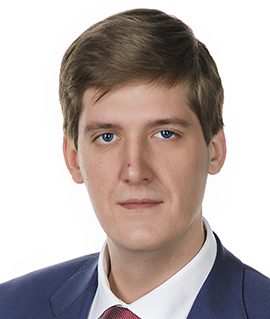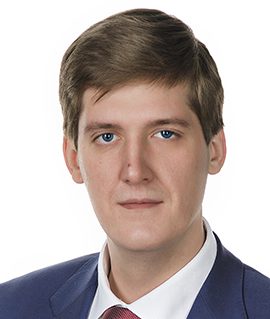 Nikolay Pokryshkin
Partner
Nikolay represents clients in Russian state courts of all instances and at the ICAC, and is responsible for foreign litigation and conducting internal audits and investigations.
We have worked with Maxim Kulkov,
Oleg Kolotilov and Nikolay Pokryshkin for
several years. The team's work is both results-driven and as efficient as possible for the client.
KPMG (read other reviews)
Nikolay specialises in bankruptcy cases, representing both lenders and debtors, as well as resolving contractual and corporate disputes, interim relief, and recognising and enforcing the decisions and awards of state courts and international commercial arbitration institutions. Examples of his work are given below.
Projects:
Representing MDM Bank and Rost Bank (Binbank group) with claims amounting to RUB 4.7 billion in the bankruptcy cases of four company groups incorporating 33 electronics suppliers.
Construction of waste processing plants in Russia at a cost of US$350 million – from reviewing investment agreements to matters of criminal, antitrust, administrative and environmental law.
Five arbitrations at the ICAC worth a total of US$30 million, arising out of railcar supply and lease agreements entered into by Brunswick Rail.
Over 30 court cases in connection with the illegal dissipation of assets worth US$6 billion controlled by Mukhtar Ablyazov.
We represented a French oil and gas company in an ad hoc UNCITRAL arbitration of a dispute with Russian regions related to the recovery of damages and loss of profit under a production sharing agreement.
We represented an Italian supplier in an ICC arbitration of a dispute arising out of a contract for the supply of equipment to a Russian brickworks.