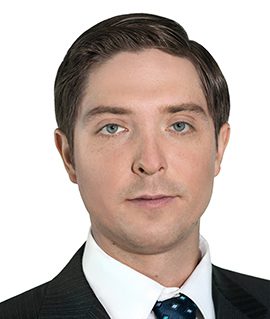 Oleg Kolotilov
Partner, Co-Head of Corporate and M&A
Oleg has over 17 years' experience in multijurisdictional disputes and represents clients in Russian state courts of all levels, including in the Russian Supreme Court, and in international arbitration centres such as the ICAC, the VIAC and the ICC, including in parallel court and arbitration proceedings.
"Oleg Kolotilov understands the ever-changing landscape of Russian law and can clarify what seems complex. Oleg is not afraid to say that no definitive position exists at present with regard to an issue – this level of intellectual honesty is well-regarded by courts and tribunals" The Legal 500 EMEA, 2021
"Maxim Kulkov and Oleg Kolotilov are two of the most technically gifted disputes lawyers operating in the Russian market. They are backed up by a superb team of diligent and hardworking juniors"
The Legal 500 EMEA, 2021
Oleg Kolotilov "constantly offered different ideas in defence of our position," a client says, adding: "He has a deep knowledge of the legislation and can motivate the client not to give up"
Chambers Europe, 2021
Oleg Kolotilov "has a structured, detailed approach"
Chambers Europe, 2021
Oleg Kolotilov is "an accomplished and powerful advocate", and "a good specialist in bankruptcy" lauded for his ability to "offer clearly understandable and strategic solutions to the most complex questions"
The Legal 500 EMEA, 2019
Oleg Kolotilov garners praise as "a good specialist in bankruptcy"
Chambers Europe, 2019
"The KK&P partners are distinguished by their 'bravery', proving more willing to take on cases against major Russian state-owned companies than some of their local competitors"
The GAR 100, 2018
"Just a genius. Oleg's written legal positions are pure scientific works"
Sovfrakht, 2018
«Oleg Kolotilov is a high-class professional. Oleg easily managed to project his extensive experience and approach duringthe case, despite the spontaneous emergence of difficulties within the case and its multidirectional development in different instances"
GALA-FORM, SMANN SA – oil & gas traders, 2018
"Thanks to Oleg Kolotilov and Nikolay Pokryshkin personally, KK&P is a firm you can rely on"
Sovfrakht, 2018
Oleg Kolotilov "seamlessly combines local knowledge with an understanding of how European companies expect to litigate"
The Legal 500 EMEA, 2018
«We have found their [Maxim Kulkov, Oleg Kolotilov, Nikolay Pokryshkin] advice to be measured, considered and business-oriented, the merits and risks of every course of action having been carefully calculated. The team's work is both results-driven and as efficient as possible for the client"
KPMG, 2015
Oleg specialises in contractual, corporate and administrative disputes, enforcement proceedings and interim relief, including in support of proceedings abroad. He also has significant experience in disputes involving parallel civil and criminal proceedings.
Oleg is ranked in The Legal 500 EMEA (Litigation, Arbitration and Mediation categories), Chambers Europe (Dispute Resolution: Domestic High-End), Pravo.ru-300 (International Arbitration – Band I, Litigation (high market) – Band I, International Litigation – Band I), Best Lawyers (Litigation, International Arbitration, Arbitration and Mediation categories).
In 2019, he was also listed in the top 10 lawyers in Restructuring/Insolvency: Litigation – Russia category according to Chambers Europe.
Examples of his work are given below.
Projects:
Participation in preparing an expert opinion for the High Court of England and Wales in PJSC Tatneft v Bogolyubov & Ors on over a hundred issues of Russian law. As a result, the firm's efforts helped the defendants defeat a US$300m claim.
Participation in preparing an expert opinion for the High Court of England and Wales on a number of Russian law issues, including recovering damages in connection with the alleged rigging of an auction in the Yukos bankruptcy case. As a result, the firm's efforts helped to defeat a US$40m claim against the defendants.
Representing a claimant in a dispute involving two oilfield services companies – NewTech Services vs Halliburton – in arbitration under ICAC Rules on compensation for restoring the hermetic seal of an ultradeep oil well after defective cementing works by the defendant. The firm won over 90% of the claim.
Defending Agrosnabsakhar and Trio in a dispute over a claim by Russia's largest agricultural holding, Rusagro, for US$19m-worth of damages for a breach of a sugar supply contract, allegedly concluded by electronic communication. Through our efforts, the parties entered into a settlement that reduced the amount of the original claim by 60%.
Defending Metallimpress (a general contractor) in the ICAC against a claim worth over US$65 million filed by Zhoukovsky (a customer) in connection with complaints regarding the quality of work on the construction of a shopping centre. The firm successfully defended the client from 75% of the claim.
Representing Ukraine in the case of Tatneft's application for recognition and enforcement of an investment arbitral award worth approximately US$150 million (the first case to be heard in Russia on the recognition and enforcement of decisions of an international investment arbitration against a foreign state).
Appealing 13 administrative fines in relation to an internet-based food delivery service and its CEO for the alleged illegal employment of foreign citizens as couriers.
Representing WOERWAG Pharma in a dispute with Transcapitalbank regarding its refusal to pay a bank guarantee (BG). The dispute concerns the right of the guarantor to raise objections arising from the alleged improper delivery under a contract secured by a BG. We managed to fully recover the money in favour of the client.
Preparing an expert report on Russian law for the Economic Court of Minsk in a dispute between the Republic of Belarus (RB) and the client, arising from a loan agreement for financing of Osipovchiskiy rail car plant, secured by a RB guarantee and guarantee of individuals, and relating to the validity of restrictions from the guarantees.
The firm successfully protected the interests of the client, one of the leading railcar operating lessors in Russia, against a claim by a former senior manager dismissed for illegal transfer of internal information, which led to the failure of debt restructuring in the amount of over US$855 million.
Defending one of the world's largest auditing and consulting companies in a dispute with an advisory services customer.
The dispute arose in relation to a consulting services agreement for analysis of the effectiveness of the implementation of an investment project relating to a major construction project.
Defending OJSC Transammiak and its shareholders in courts of all instances, including the Russian Supreme Commercial Court, in disputes relating to the invalidity of the sale and purchase agreement for 51% of the shares in the Company.
Over 30 court cases in connection with the illegal dissipation of assets worth US$6 billion controlled by Mukhtar Ablyazov.
Defending a Russian state corporation in the VIAC and the ICAC in a dispute with contractors regarding the recovery of damages and fines amounting to US$97 million and arising out of agreements for the preparation of documents in connection with the construction of a high-speed railway line in Libya.
A dispute in the ICAC between a Russian gas producer and Georgia in connection with gas supply contracts entered into under Russian, Georgian and Swiss law.
Representing OJSC Togliattiazot in dozens of cases, including a minority claim for the recovery of damages resulting from a lowering of sales prices on foreign markets.