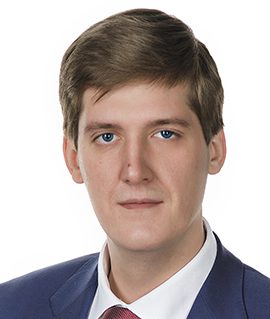 Nikolay Pokryshkin
Partner
Nikolay represents clients in Russian state courts of all instances, including the Supreme Court of Russian Federation, as well as in commercial arbitration (the ICAC, the SCC, the ICC).
"… Nikolay confirmed expectations, more importantly, he was able to surpass them, showing those qualities that we often lacked in working with other firms – namely, the level of immersion in the client's problem. Even before we had questions about further steps and possible arguments of our opponents, Nikolay had already prepared answers to them." The Legal 500 EMEA, 2021
"Nikolay Pokryshkin has impeccable knowledge of insolvency law and judicial practice"
The Legal 500 EMEA, 2021
"Nikolay Pokryshkin acts on a broad range of commercial litigation matters and bankruptcy cases"
Chambers Europe, 2021
"Nikolay Pokryshkin showed himself to be a lawyer with perfect knowledge of the subject. I would particularly like to note his good understanding of international insolvency practice and his operational decision-making"
The Legal 500 EMEA, 2020
Pokryshkin is "sharp and creative" and "always considers all the possible options"
The GAR 100, 2019
"… the highest level of immersion in the case. We had a sense of reliability, trust and support after our first meeting with Nikolay [Pokryshkin] and Dmitry [Ilin]. During the entire period of the work, we were aware of both the high qualification of the lawyers and their outstanding personal qualities: politeness, decency, and friendliness"
Evgeny and Anzhelika Kazazaevy (Teploenergogaz), 2021
"A distinctive feature of Nikolay, in addition to his awesome professional qualities, is a high degree of customer focus. Nikolay is always prompt, quickly delves into the essence of the client's needs and gives the required result in a short time"
B&N Bank, 2018
"In trial proceedings Nikolay literally 'forced' the judges to create a new practice using his persuasive skills and was always one step ahead of our opponents (a very well-known law firm), who acknowledged his professionalism in backstage talks and in the corridors of the courts"
GALA-FORM, SMANN SA – oil & gas traders, 2018
«Nikolay Pokryshkin is focused on a specific result and is always ready to promptly resolve the issues, none of which will have a chance of avoiding his focused attention. Nikolay always suggests several solutions for each of the problems and provides an adequate vision of their effectiveness and appropriateness"
Khlynov Bank, 2018
"Nikolay Pokryshkin is a man I am completely sure of, not just as a talented lawyer, but also as a man to share a foxhole with. He has a certain charm neither judges nor opponents can resist"
Sovfrakht, 2018
«Kulkov and Pokryshkin are like 'raging bulls' during hearings»
The GAR 100, 2018
«The KK&P partners are distinguished by their 'bravery', proving more willing to take on cases against major Russian state-owned companies than some of their local competitors"
The GAR 100, 2018
«We have also successfully worked together with Nikolay Pokryshkin who we recommend as a highly-qualified and responsible professional"
Brunswick Rail, 2015
Nikolay leads the firm's insolvency practice and specialises in handling cases for lenders, debtors and their beneficiaries, as well as in resolution of contractual and corporate disputes, application of interim measures, and recognition and enforcement of state court judgments and arbitral awards. Together with the team, in 2015–2021 Nikolay has represented clients in 51 insolvency cases and related parallel disputes in Russia and the EU involving claims worth approximately RUB 40 billion.
Nikolay is recognised by authoritative international and Russian legal directories such as The GAR 100, The Legal 500, Best Lawyers, and Pravo.ru-300.
The firm's insolvency practice led by Nikolay is recognised by Chambers Europe (Restructuring/Insolvency: Litigation – Band 2), The Legal 500 (Restructuring and Insolvency – Tier 3) and Russia's most extensive legal market research, Pravo-300 (Bankruptcy (including disputes) – Band I).
Examples of his work are given below.
Projects:
Leading participation in the Metrostroy bankruptcy case. The project is critical, both for the continuation of the construction of the metro in St Petersburg and for the satisfaction of lenders' claims through the return and sale of assets worth more than US$200 million and subsidiary liability of the debtor's shareholders.
Representing Raiffeisenbank in the case of the bankruptcy of a debtor with a debt of over US$53 million secured by the pledge of a Russian shopping centre. The project was successfully implemented, despite disputes on subordination, unauthorised construction, invalidity of collateral and a chain of restructuring transactions.
Representing the interests O1 Properties Group companies in the bankruptcy case of a large office centre in Moscow. Following the results of a year of confrontation with TRUST Bank in a bankruptcy case and three parallel processes worth US$97 million in total, we managed to achieve settlement of the dispute on the most favourable terms for the client.
Representing the interests of Sovfrakht and Koksokhimtrans in the bankruptcy case of the Antipinsky Oil Refinery with the lenders' claims totalling US$5 billion. The successful defence against challenging transactions in favour of clients required the establishment of a precedent for recognising forced payments late after filing for bankruptcy as committed in the ordinary course of business.
Representation of oil traders in the bankruptcy case of Samaratransneft-Terminal with a register of claims of US$662 million made it possible to achieve a peaceful settlement at the end of a year of disputes over the subordination of RUB 20 billion in bond claims. We also secured the inclusion in the register of a US$12 million claim based on a pdf copy of a guarantee under Swiss law, the issuance of which the debtor denied.
Successfully represented RBC for three years in seven separate disputes in the bankruptcy case of a former subsidiary (RBC Money payment system), including protection from subsidiary liability, challenging the sale of a business and payments (the total value of the disputes was in excess of US$63 million).
Successful defence of Sovfrakht and its senior executives in courts of all instances, including the Supreme Court of the Russian Federation, in three disputes on subsidiary liability for RUB 510 million as participants and members of the board of directors of a subsidiary, recovering corporate losses and challenging the debtor's transactions with a related person with the aim of repeating attempts to bring clients to subsidiary liability.
Representing a former shareholder of one of the leading research and production enterprises in the Chuvash Republic in a dispute over a claim for the recovery of over RUB 600 million of the actual value of the share in the authorised capital of the company.
Representing clients (former members and directors of the company) in a major corporate conflict in order to restore lost control over the company and protect against the recovery of corporate losses under 12 parallel cases on the expulsion of participants from the company, challenging corporate decisions, transactions on the disposal of shares and assets, recovery of losses and subsidiary liability.
Representing a client before the SCC (Arbitration Institute of the Stockholm Chamber of Commerce) in a dispute over the termination of a premium hotel management agreement. The successful recovery of lost profits over the next 40 years of contract execution was especially valuable for the client in the context of parallel bankruptcy cases in Russia.
Representing MDM Bank and Rost Bank (Binbank Group) with claims amounting to RUB 4.7 billion in the bankruptcy cases of four company groups incorporating 33 electronics suppliers.
Construction of waste processing plants in Russia at a cost of US$350 million – from reviewing investment agreements to matters of criminal, antitrust, administrative and environmental law.
Five arbitrations at the ICAC worth a total of US$30 million, arising out of railcar supply and lease agreements entered into by Brunswick Rail.
Over 30 court cases in connection with the illegal dissipation of assets worth US$6 billion controlled by Mukhtar Ablyazov.
We represented a French oil and gas company in an ad hoc UNCITRAL arbitration of a dispute with Russian regions related to the recovery of damages and loss of profit under a production sharing agreement.
We represented an Italian supplier in an ICC arbitration of a dispute arising out of a contract for the supply of equipment to a Russian brickworks.