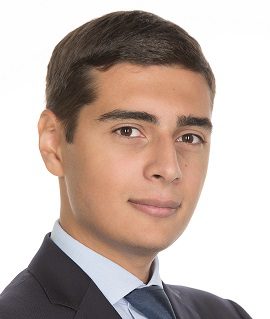 Dmitry Gloov
Associate
Dmitry specialises in complex commercial litigation in Russian and foreign courts, including recognition and enforcement of Russian and foreign arbitral awards. Particularly, Dmitry represents clients in contractual disputes and bankruptcy proceedings.
Projects:
Representing International Bank of Azerbaijan (IBA), Azerbaijan's largest bank, in a dispute with Sberbank, Russia's largest bank, in proceedings for the recognition of the judgment on IBA's US$3.3 billion debt restructuring.
Defending Sovfracht, one of the ten largest transport companies in Russia, as well as its shareholders, beneficiaries and senior executives, against subsidiary liability of US$8.8 million for the debts of the client's former subsidiary in connection with the alleged feigning of the debtor's solvency after signs of insolvency arose.
Representing oil trader creditors (Sonact Group Limited and Volga Тerminal Тransit) in the bankruptcy of the Samara refinery, including subordination of over US$515 million in bond claims of creditors affiliated with the debtor and controlled by a large pension fund, as well as acting to oppose the transfer of the debtor's assets and business to subsidiaries of the fund.
Representing RBC (formerly a participant in the debtor) in four proceedings, including: (i) a dispute on the client's subsidiary liability for the alleged transfer of the debtor's business; and (ii) a dispute on the invalidity the debtor's payments to a UK company allegedly controlled by the client, amounting to in excess of US$56 million.
Representing Ukraine in the case of Tatneft's application for recognition and enforcement in Russia of an investment arbitral award worth approximately US$150 million. This is the first case to be heard in Russia on the recognition and enforcement of decisions of an international investment arbitration against a foreign state.
Preparing a legal report for an English court in the interests of the former owners of the Russian bank on the recognition and enforcement in Russia of English court decisions on the recovery of court costs from individuals in Russia.