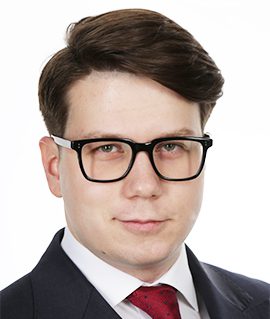 Vladislav Rodionov
Associate
Vladislav specialises in dispute resolution in Russian courts, as well as in international commercial arbitration.
Vladislav has taken part in several corporate disputes, contractual disputes, bankruptcy cases and disputes arising out of intellectual property rights (patents and trademarks).
Vladislav's expertise also covers energy law and the legal regulation of hydrocarbon development.
Projects:
Assisting with the drafting of a Russian law expert opinion for an English court regarding possible steps by the plaintiff to return the assets of a bank's beneficiary to the insolvency estate of the bank.
Participating in the preparation of a cassation appeal to the Judicial Division for Civil Cases of the Supreme Court of the Russian Federation regarding a dispute about the rights of broker to foreclose securities following a default on credit provided by the broker to the client.
Assisting with the drafting of a Russian law expert opinion for a Swedish court on the restoration of the corporate governance in a legal entity.
Representing the client, a major pharmaceuticals company, in contesting in a ruling of the Chamber of Patent Disputes on the invalidation of a patent in an Intellectual Property Court.
Representing a foreign insurance company in a bankruptcy case, and including, in the register of creditor claims, a claim for over 2 billion roubles resulting from a default under a loan agreement.
Representing a major European bank in a bankruptcy case of a mall owner worth over 3 billion roubles.